Kolkata is equal parts chaos and charming! From its busy corners to its ever-evolving markets, here top 9 best tourist place in Kolkata, the City of Joy has plenty on offer to tourists who are ready to explore. Whether you are a literature student or a person who likes to dive deep into different cultures, there is something for everyone.
If you are planning to visit the city anytime soon, here top 9 best tourist place in Kolkata. While some are iconic, there are some places that are hidden from the touristy crowd of the city and still demand a visit.
1. Victoria Memorial, Kolkata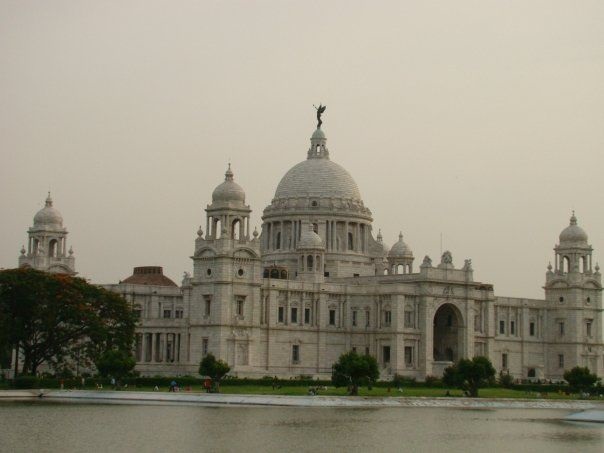 An imposing white monument, Victoria Memorial is one of the most visited places in Kolkata, and for all good reasons. Named after Queen Victoria, it now serves as a museum and is perfect for history buffs. If you ever feel like taking a walk down our past and reflect on how long India has come from its colonization days, visit this place. There are light and sound shows held in the evening. The era of India's freedom struggle is shown not only through the light and sound show but through a series of paintings, artifacts, sculptures, and books. We would recommend spending at least 3-4 hours to gain knowledge about our country's past.
Timing:
Museum – 10:00 am to 05:00 pm; closed on Mondays and National Holidays
Gardens – 05:30 am to 06:15 pm; every day
Entry Fee:
Museum – ₹20 for Indians; ₹500 for foreign nationals
Gardens – ₹10 per person
2. Howrah Bridge, Kolkata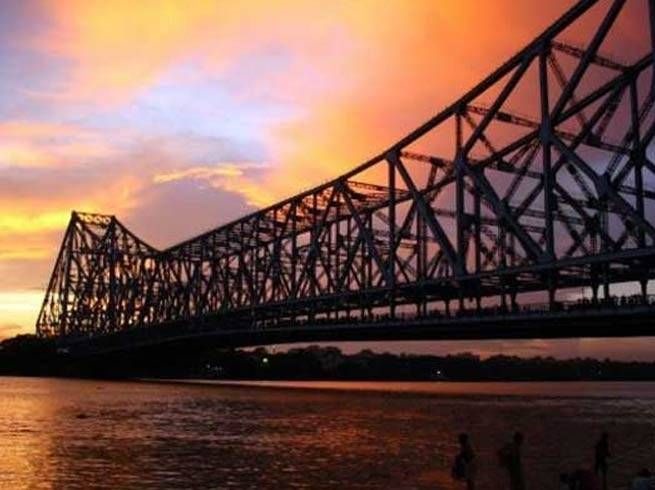 To say that Howrah Bridge is one of the top places to visit in Kolkata would be an understatement. An unofficial emblem of the city, Howrah Bridge merits a visit if you want to spend some time alone with just the ocean in front of you. Sit here in silence or simply observe the fishermen go about their work at dawn and dusk.
Trivia: Did you know that the bridge has been renamed after Rabindranath Tagore and is now called Rabindra Setu.
3. Indian Museum, Kolkata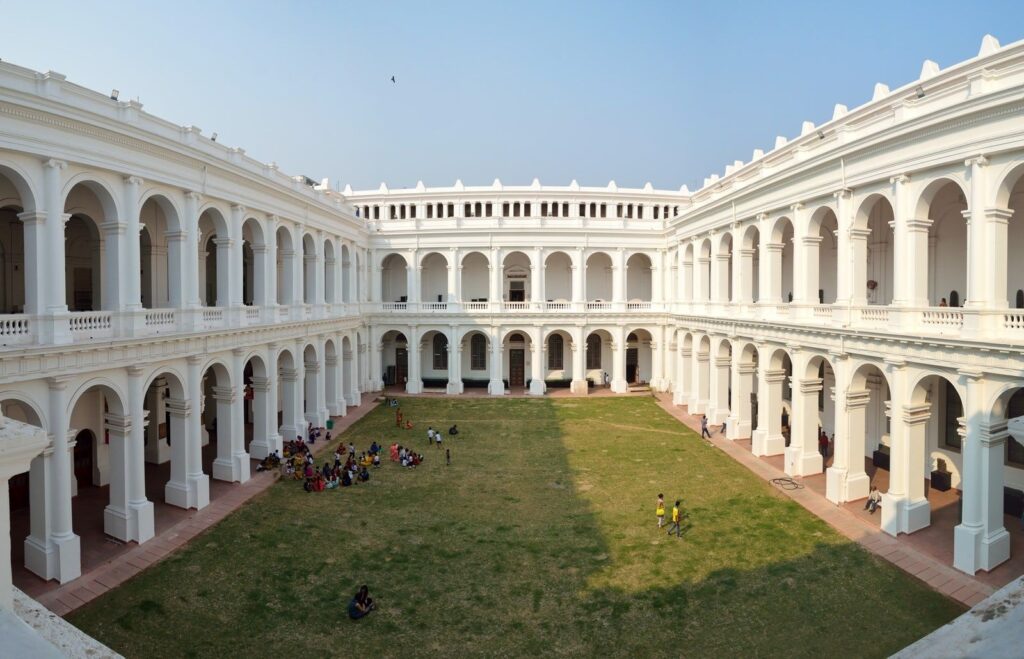 With its foundation laid down in 1814, the Indian Museum is one of the oldest in the world. Its 35 galleries are filled with historically significant items like stunning Mughal paintings, skeletons, fossils, Egyptian mummies, and other sacred items. This is the largest multi-purpose museum in the whole of the Asia-Pacific region.
Location: Park Street, Kolkata
Timings: Tuesday-Sunday 10:00 AM to 5:00 PM
Entry Fee: ₹10 for Indians, ₹150 for foreigners
4. Princep Ghat, Kolkata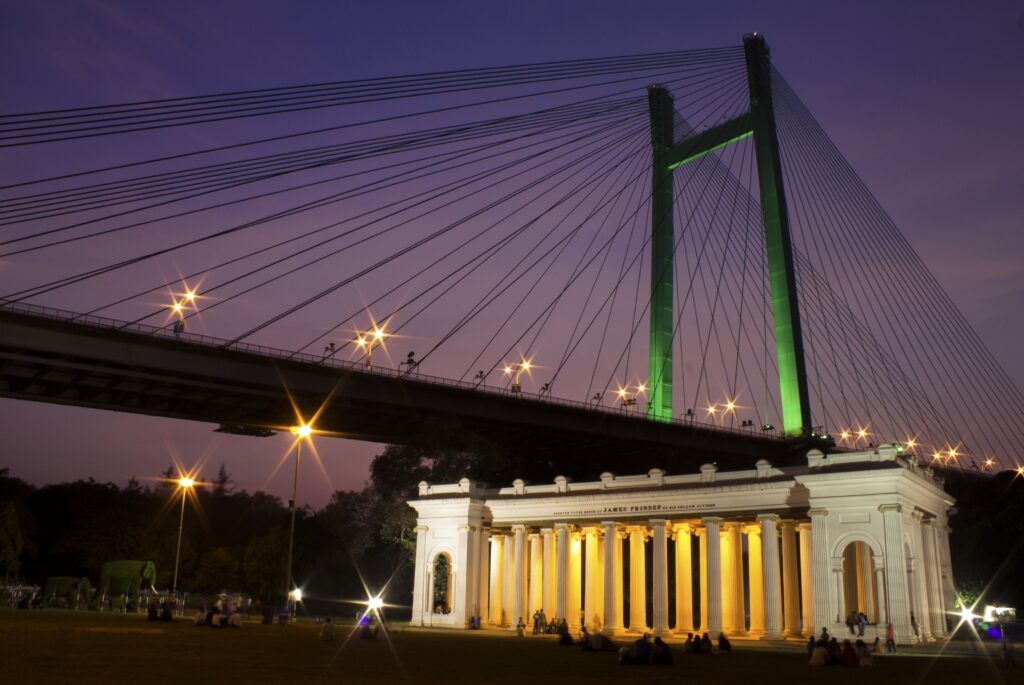 Located along the river Hooghly, Princep Ghat is a perfect place to spend your evenings. The surroundings are fully lit up post-sunset and you can pack some food and spend a relaxed time enjoying the grounds. The Princep Ghat is a Greek-style building located in a strategic place right under the 2nd Hooghly Bridge.
Best time to visit: After 6:00 PM
5. Old Chinatown, Kolkata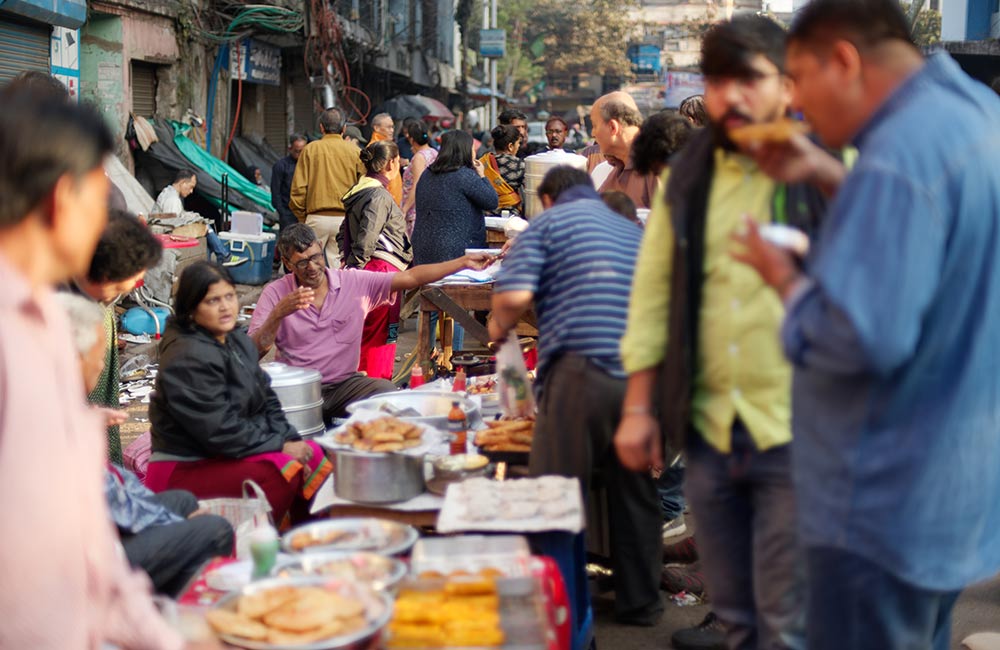 The only Chinatown in all of India, this place is a haven for people who want to taste the delicacies of this Asian country. The place evolved after Chinese traders who came to work on the ports settled here. While the place may have lost its authenticity, there are some stalls that still serve authentic Chinese appetizers like pork sausage, prawn crackers, momos and fish ball soup.
6. Dakshineswar Kali Temple, Kolkata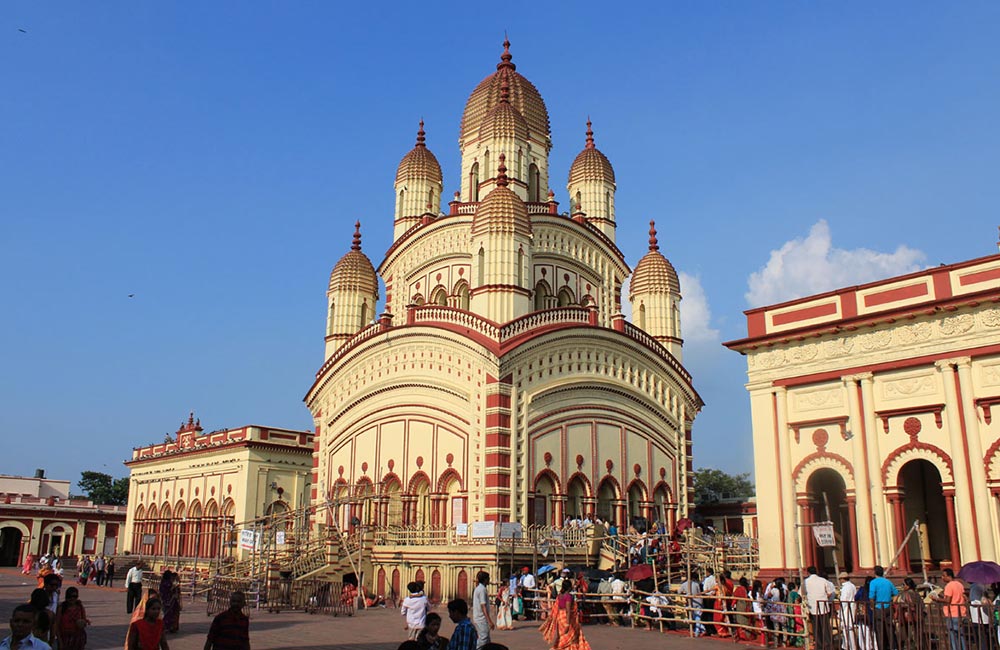 The temple is dedicated to Bhavatarani, an aspect of Goddess Kali and 'the savior of the universe'. One of the oldest and most important temples to have ever been built, it receives pilgrims from all over the world.
The temple was founded by Rani Rashmoni, who lost her husband and was left with a vast amount of wealth. The idea of building this temple came to her in a dream and this was the last thing she did before going on a pilgrimage to Varanasi.
7. Town Hall, Kolkata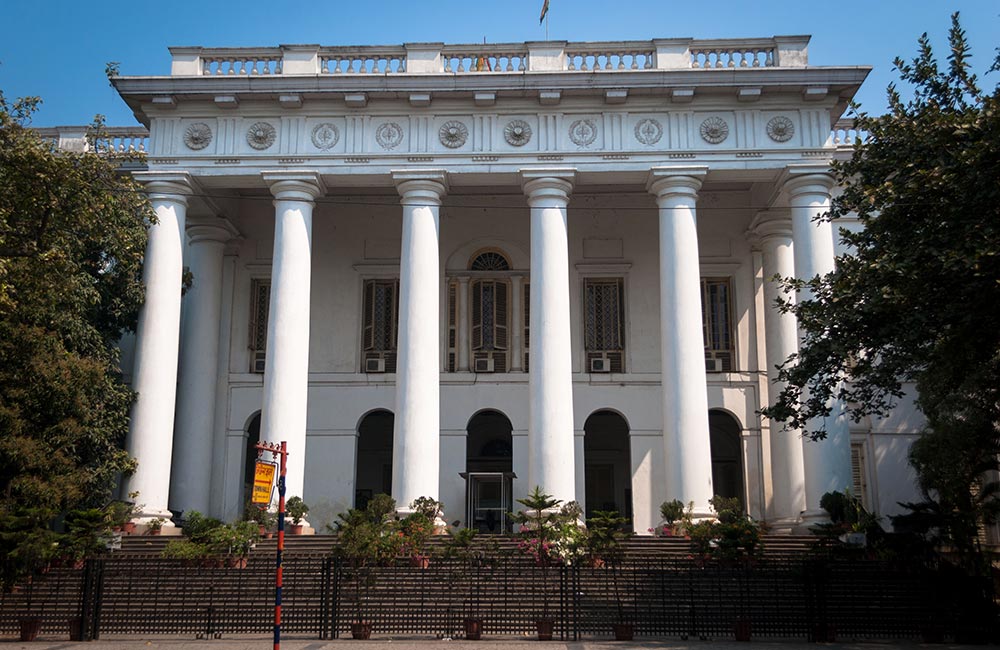 This architectural brilliance is a beautiful example of the Roman Doric construction in the country. You can spend your time looking at the statues of kings, queens, and important British officials in this well maintained historical gem. Fun fact- The ceilings of the building are 30-feet high!
Location: B.B.D Bagh, Kolkata
Timings: 9:00 AM to 5:00 PM
Entry Fee: ₹10 per head
8. Eden Gardens, Kolkata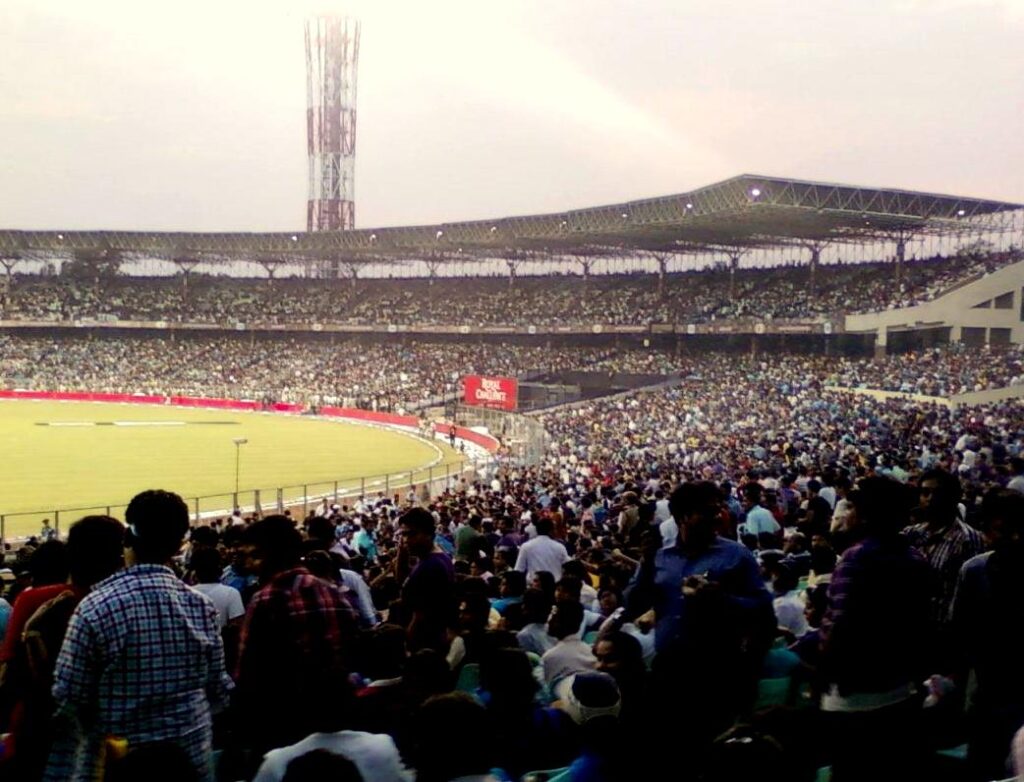 If you are a cricket fan, there is no way you can miss the Eden Gardens. This is one of the popular visiting places in Kolkata. Cricket fans get really fond memories of matches played and won here when they step into the building. This is the second-largest cricket stadium in the world and can house an impressive 66,349 spectators at a time.
Location: B.B.D Bagh, Kolkata
Timings: 5:30 AM to 11:30 PM
9. Belur Math, Kolkata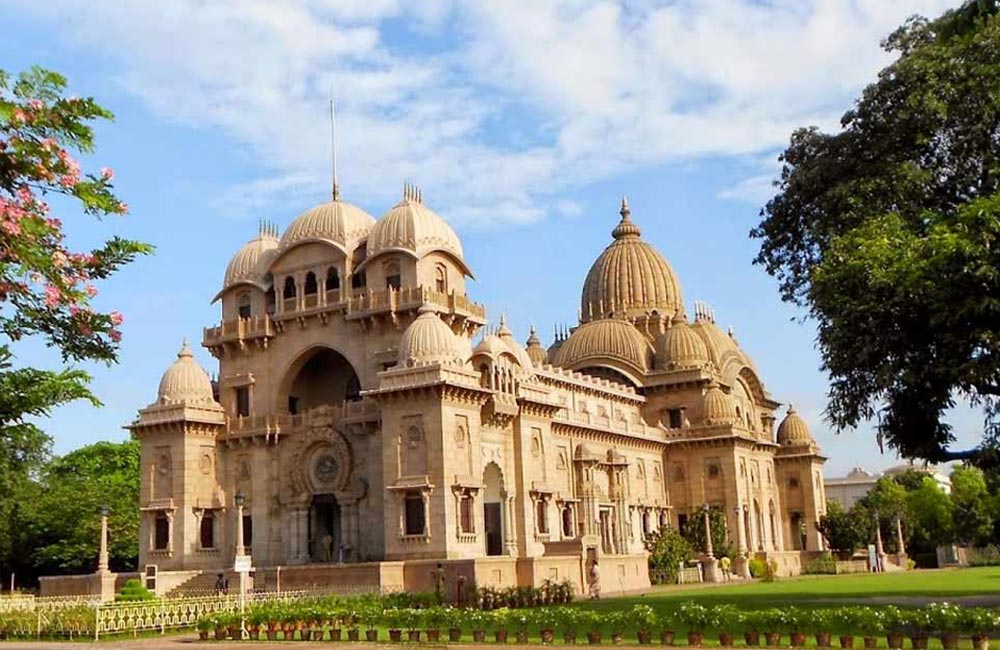 Belur Math is located on the banks of the river Hooghly and is the headquarters of the Ramakrishna Math. You can see Swami Vivekananda's room here and the old shrine. This is a perfect place to get away from the everyday hustle and bustle and calm your mind.
Location: Howrah District, West Bengal